Cement plants can be classified by different methods. By mobility there are stationary plants and mobile plants, by technological arrangement one-step and two-step ones, and by operation mode periodical and continuous ones. Classification of the three couples mentioned above has been elaborated clearly in Classification of Cement Plants (click the title to read). Nevertheless, owing to restricted length of the passage, two classification methods remain unmentioned.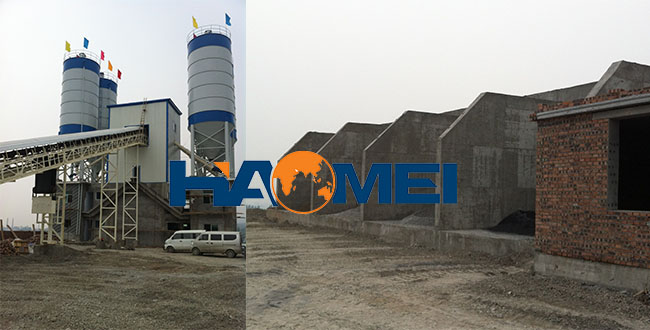 Cement plants may have two kinds of weighing methods. The first method is to weigh each type of materials respectively before they are sent into the mixer. This type of plants have precise weighing result but complicated construction and high cost. The other method is called cumulative weighing, by which materials are weighed cumulatively. Plants of cumulative are of simpler construction and lower cost, but they are not suitable for large construction projects because of cumulative errors. Classified by number of mixers, cement plants can be divided into single-mixer type and double-mixer type. The latter serves as necessary supplement for the former, since in some cases there's temporary need for larger productivity. For green-hands it's easy to get confused by diverse cement plant models. As a matter of fact, all models can be read by straightening out its rules. Take HZS25 for example. Here "H" refers to "per hour". "Z" originates from Chinese "Zhan", which means plant. "S" also stands for a Chinese word– "Shuang", meaning double (spindle). Thus the concept of HZS25 should be: a cement plant of 25 metric meters per hour, the mixer of which is double-spindled. Sometimes another number may be added in the front like 2HZS25. Here "2", as understood universally, means "double or two", and 2HZS25 means the plant is equipped with two double-spindled mixers of 25m3 per hour.
Haomei machinery equipment co. Ltd, a famous manufacturer of quality stationary cement plant, mobile cement plant, concrete mixer, concrete trailer pump, concrete boom pump truck and concrete mixer truck, has decades of manufacturing history and over ten years of exporting experience. Welcome to contact april@concretebatchplant24.com or wechat/whatsapp 008615838029491 for more information.
Reprinted from http://concrete-plant-hm.com/news/82.html