Sarah

Composition of Mobile Concrete Batching Plant

已关闭评论
Although a mobile concrete batching plant is usually smaller than a stationary plant in scale, it has all necessary parts, only arranged in a different way to cater for mobility requirement. It's composed of the mixer base, the control room, aggregate grading system, belt conveying frame, mixer and accessory components.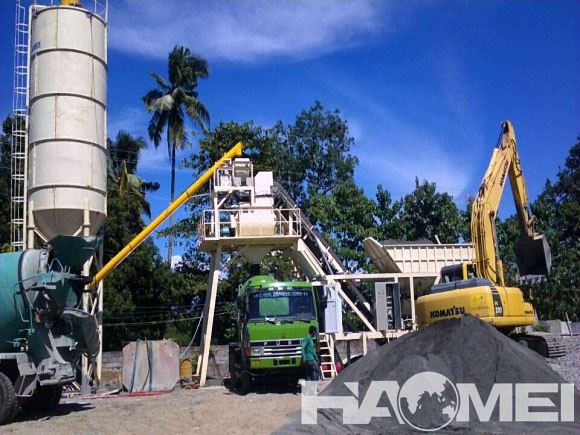 The mixer base, normally arm-shaped and suspended, contains traction pins for trailing and supporting legs inside. On the base are the mixer (usually forced type) and measurement scales for concrete, water and additives. To take full advantage of space, inspecting platform is arranged around the base. The control room usually lies at the bottom of the mixer base. Controlling system inside the room is the same with that of a stationary plant. The control room functions as the front support for the whole mobile concrete batching plant when it's in working state, while in travel the room retracts among supporting legs without being dismantled. Aggregate grading system is located at the rear end of the whole plant. Aggregate storage bins, on the upper side, is equipped with heightening boards to enlarge capacity of the bins. The aggregates are usually weighed in accumulative way. Belt conveying frame of the mobile concrete batching plant connects the mixer base to aggregate grading frame so that the three constitute main structure of the plant. Accessory components include concrete silos and screw conveyors, which need not to be dismantled for either working or travelling.
Haomei Machinery Co. Ltd manufactures mobile concrete batching plants and stationary concrete batching plants of various specifications. Customization is also acceptable. Welcome to contact april@concretebatchplant24.com for more information.