Rapid development of city construction has stimulated prosperity of many related industries. It is no novel thing that construction workers earns much more salary than not only white collar workers but also factory workers. Some people has worked in construction sites for so many years that they witnessed technological development of construction machines. At the very beginning, concrete was mixed with sand by manual work. Later, simple concrete mixers came into being, which, however, were then rarely seen at construction sites because they were soon taken place by large concrete batching plants. Large demand of concrete offers opportunities for people who want to make money by supplying finished concrete to construction sites. The first problem for them would be choosing a suitable type of concrete batching plant.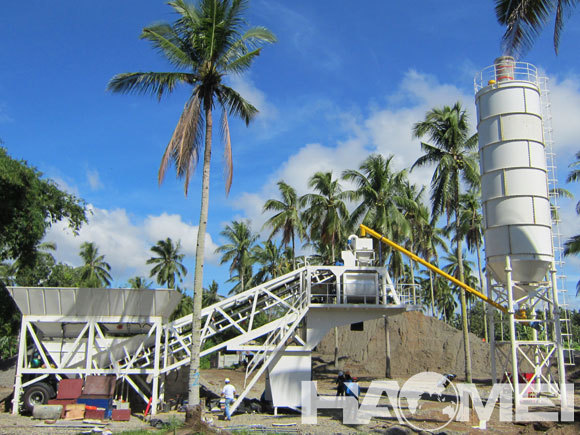 As known to all, there are stationary and mobile concrete batching plants for sale in market. How to decide which type you want? First, you should be clear about how many metric meters of finished concrete you must supply every day. Normally speaking, a mobile concrete batching plant can supply as many as 75m3 of concrete per hour. If your desired amount is larger than that, you normally have no other choice but to choose a stationary plant. If your desired amount is less than 75m3/h, you can take both into account. Second, check whether your targeted construction sites are distant from each other. If so, mobile concrete batching plants would be a better choice because it's convenient for them to move from place to place. If not, you'd better choose stationary plants which are more efficient since there's no need for moving. Third, how much is your budget? Normally speaking, mobile plants are cheaper, but that sometimes depends.
Haomei manufactures both stationary and mobile concrete batching plants. If you have further questions about how to choose suitable batching plants, welcome to contact april@concretebatchplant24.com or wechat/whatsapp 008615838029491 and we'll reply at the earliest time.