Speaking of continuous concrete mixing plant, most people would have vision of large standing silos against clear blue sky, but they see the same picture in their mind's eye when hearing concrete batching plant. In fact, concrete batching plant can be divided into continuous type, usually called continuous concrete mixing plant, and batch type, normally referred to as concrete batching plant. The reason for people's confusion about the names is that the latter takes up most of the market share and few people are really clear about the existence of the former.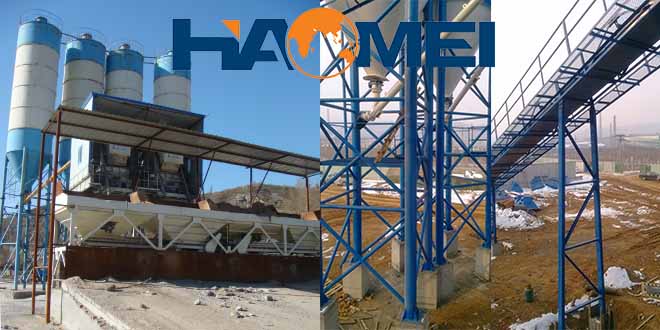 The following working procedures of continuous concrete mixing plant may help you to learn its differences from concrete batching plant. After the plant has been started raw materials are weighed and delivered in the order of distances from the mixer, and at last sent to the mouth of the mixer at the same time. The mixer mixes raw materials, which go into the mixer at given ratio, and meanwhile push finished concrete to the outlet. When the plant finishes given amount of concrete, distributing parts stop automatically in accordance with their distances from the mixer. Thus we can see that with continuous concrete mixing plant, the whole production process is automatically continuous.
Haomei Concrete Batching Plants, a well-known brand in China, has exported its products to many countries, including the US, Australia, India, Brazil, Peru, Chile, South Africa etc. If you have a buying demand for continuous concrete mixing plants or concrete batching plants, welcome to contact april@concretebatchplant24.com for more information. We cannot guarantee that you will buy from us, but we can assure you that we will serve you with our decades of manufacturing and more than ten years of exporting experience.
Reprinted from http://concrete-plant-hm.com/news/Working%20Procedures%20of%20Continuous%20Concrete%20Mixing%20Plant.html