As a mobile concrete batching plant, YHZS25 has degrading part, measuring part, mixer, storage, discharge and auto-control part gathered in one unit which can be connected to a trailer. It produces 25m3 concrete per hour, functioning as a best choice for construction of rails, roads, ports and water conservancy projects in wild areas.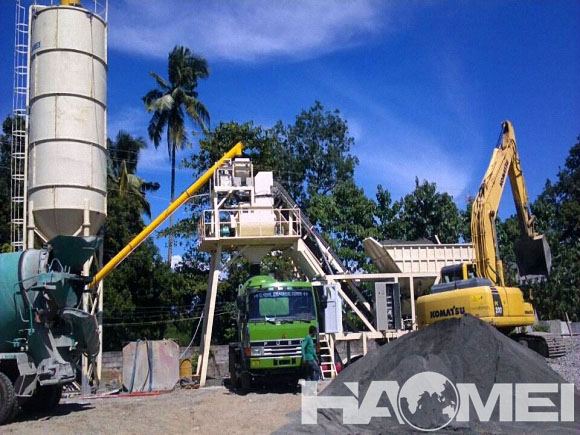 Haomei YHZS25 mobile concrete batching plant is highly integrated. It's equipped with forced mixer of double horizontal shaft. The mixer mixes efficiently and discharges quickly, suitable for plastic concrete and hard concrete. Aggregates can be measured cumulatively or separately. Cement, water and additives are measured by scale hoppers which are controlled by computers so that the result will be preciser. Clients can choose to convey aggregates by hoppers or belts. Siemens electrical components guarantee stable production of large scale concrete on the spot. With complete functioning parts of a batching plant, our mobile concrete batching plant shows its capabilities in mobile project constructions like water conservancy, roads, airports, ports and bridges etc.
Haomei is a professional mobile concrete batching plant manufacturer with over ten years of exporting experience, supplying mobile concrete batching plants of various specifications. If you have further questions, welcome to contact april@concretebatchplant24.com or leave a message and we'll reply at the earliest time.